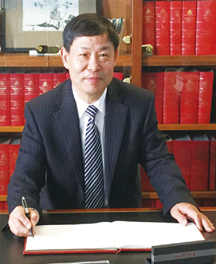 Founded in 1978, Tianjin Chengjian University (TCU) is located in the city of Tianjin, one of China's four municipalities directly under the Central Government. As a regular institute of higher education under the administration of Tianjin municipal government, TCU, with a global vision, is young, open and robust, featured with urban-construction-related education and research. As president of TCU, on behalf of the staff, I hereon am sending sincere invitation to prospective students, researchers and potential collaborators.
Since the establishment, TCU has been adhering to the motto of 'Morality and Capacity, Learning and Creating, gradually expanding the schooling scale and enhancing educational quality. For years, TCU has been devoting itself to continuously optimizing the humanistic environment, the system of disciplines and specialties, training bases and labs, while strengthening the faculty, enriching scientific and cultural activities, and cultivating talents with equal emphasis on science and humanities, to nurture a positive campus culture.
So far, TCU has educated over 60,000 qualified and dedicated graduates, making outstanding contributions to the local economy and the national urban construction.
TCU adheres to the idea of 'opening-up' education, by actively strengthening international exchanges and cooperation, and creating an open and free exchange atmosphere, to warmly accommodate friends from all over the world with an attitude of inclusiveness and equality. With academic freedom, advanced equipment and convenient services from a global perspective, TCU welcomes outstanding researchers from all fields of research and students from all over the world to study and research here. And TCU also welcomes friends from all over the world to cooperate with us in all aspects, establishing close ties with each other to achieve mutual development.
With opportunities and challenges brought by 'The Belt and Road Initiative', TCU can surely seize the opportunities and overcome the challenges to build our world with our professionalism, high spirit, positive attitude and optimistic vision. We are looking forward to meeting you on our beautiful campus.