Tianjin Chengjian University (TCU) has been broadening its education influence and international communications, which has undergone significant improvement in recent years. Up until now, TCU has signed MOU with 22 universities and institutions of 11 countries including Sheffield-Hallam University of Britain, Nevada University of America, University of Adelaide of Australia, Rhine-Waal University of Applied Sciences of Germany, Meijo University of Japan, University of Salerno of Italy, Cracow University of Technology of Poland etc.
Besides, substantial cooperation with VIA University College of Denmark, Royal Melbourne Institute of Technology and University of Adelaide of Australia, Carroll University of America, Meijo University of Japan and Bialystok University of Technology of Poland have been realized in many fields. For student exchange, TCU signed "3+1 Articulation Program of Project Management", "3+1 Articulation Program of Marketing", "2.5+1+1.5 Articulation Program in Architecture" with VIA University College; "2+2 Articulation Program in English" with Carroll University, "2+2 Articulation Program of Electrical Engineering" with RMIT, and "Student Exchange Agreement" with Meijo University, which provide opportunities for students to lean, experience and improve in a foreign environment. In 2013, TCU's cooperation with VIA University College in Project Management Dual Degree Program was approved by the Ministry of Education and students' enrollment started in 2013. For staff exchange, TCU signed "Teacher Training Agreement" with Carroll University and 7 teachers of School of Foreign Languages was sent to Carroll for training in 2014; in 2015, 3 teachers of School of Economics and Management was also sent to Denmark according to the university's cooperation with VIA University College; and many of our staff members have been sent overseas as visiting scholars for half or a year with the aim of paving the way for future students' cultivation and of broadening staff's international vision and more staff are expected to receive training and overseas experience in the years to come. For scientific research cooperation, Tianjin Chengjian University- University of Adelaide Joint Research Centre for Disaster Prevention and Mitigation was established in November, 2013 and many research projects and programs have been applied and conducted since then; in May, 2014, Bialystok University of Technology, Poland, Vilnius Gediminas Technical University, Lithuania and Tianjin Chengjian University filed a joint application for EU-CHINA Research and Innovation Partnership Grant with the title of Energy efficiency of buildings in cities - legal, technical and ecological conditions.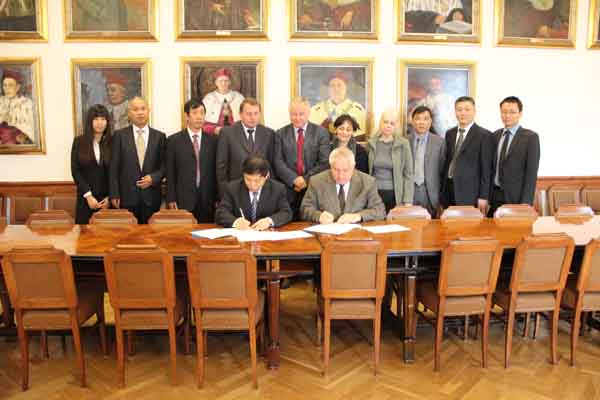 In order to better serve the university's teaching, scientific research and disciplinary construction, TCU has invited many prominent scholars and experts around the globe to conduct research activities and deliver lectures for staff and students. The university has also been granted many foreign expert projects by Tianjin Administration of Foreign Experts Affairs and Tianjin Education Committee, and for which, the university was listed as one of model units in Tianjin for overseas talent introduction work. And TCU also held many international conferences and seminars like Symposium on Frontiers in Geology and Geophysics, 9th International Conference on Urban Watershed Management, 6th International Conference on Protection of Structures against Hazards etc. which attracted many distinguished scholars and experts from at home and abroad and have improved the university's scientific research level and overall strength.